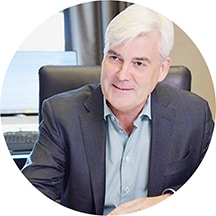 At Liberty Mutual, we are committed to building security for those who need it most — and that commitment has never been stronger. Over the past several years, we've dramatically increased the scope of our philanthropy, using our resources to expand the impact our community partners can have on people's lives.
In 2021, we raised our total giving to more than $40 million, across more than 500 nonprofits. This included a targeted $5 million in grants to organizations responding to the impact of the ongoing pandemic on learning, mental health, and food and housing insecurity in low-income communities. We made our largest single grant ever to our long-time partner, Bridge Over Troubled Waters, to support their extraordinary work to empower young people experiencing homelessness. We also made a series of grants to community partners focused on making outdoor recreation and learning more accessible to people with disabilities.
Most important are the people whose lives we have the privilege to be a part of: the strong leaders at the helm of the organizations we support, their dedicated staff, and the inspiring and resilient people whose lives they touch. I can't wait to have more opportunities to meet and serve with them in person as the pandemic abates.
I continue to be inspired by the generosity of our Liberty Torchbearers — the thousands of employees who participate in our giving programs. This year, employees gave nearly $9 million to 8,987 nonprofits which was matched through our Give with Liberty program.
We've also strengthened our Torchbearers programs with a new leadership group, the Torchbearer Champions. These 350 dedicated employees across the country will serve as point people for Torchbearers in their regions, helping their colleagues connect with opportunities to give and serve.
Finally, it was a great honor to be recognized for our philanthropic work last year. We received a Citizen Award for Best Community Improvement Program from the U.S. Chamber of Commerce Foundation for our commitment to eradicating youth and young adult homelessness across the country. We were also named one of the Civic 50 by Points of Light, which recognizes the most community-minded companies in the U.S., and were included in People magazine's 50 Companies that Care list.
As you browse the stories of our community partners highlighted on this site, I hope you'll be just as inspired as I am by their incredible work. We're proud to support them as they build security and fuel dreams for the people and communities they serve.
 

David H. Long
Chairman & Chief Executive Officer