Using our Values as a guide, our board of directors, management and employees share a commitment to operating a strong, ethical and responsible business. This is essential to upholding the trust and confidence of our policyholders and stakeholders, and to promoting Liberty Mutual's long-term success. 
We understand that ESG issues — including climate change, cybersecurity threats, social inequities and more — will continue to grow in importance for businesses, employees and communities around the globe. We work to ensure that ESG-related risks are well understood across our organization, and that we are able to evaluate progress against goals and measure success.
The Liberty Mutual Board of Directors has oversight over Liberty Mutual's sustainability approach, supported by the Governance and Sustainability Committee. The executive leadership team, chaired by the CEO, has management-level oversight and accountability for Liberty's ESG efforts. The Liberty Mutual ESG Executive Committee — a small group of senior executives — is responsible for overseeing the implementation of our ESG approach across the enterprise. They are supported by the ESG Advisory Council and the Climate Council, cross-functional groups that ensure operational coordination and manage specific ESG issues.
Risk Management 
Liberty Mutual is in the business of managing risk and risk management is a priority for all our business units and employees. Simply put, nothing is more important than ensuring that we have a strong, holistic approach to risk management.            
Liberty Mutual's Enterprise Risk Management (ERM) function has consistently been recognized as one of the top North American-based insurers' ERM organizations by rating agencies and regulators. Enterprise risk governance starts at the board level with a focus on maintaining a strong ERM function, systems and controls for anticipating, measuring and mitigating risk.
Liberty Mutual routinely identifies the risks that might affect its business, which are outlined comprehensively in our statement of risk factors.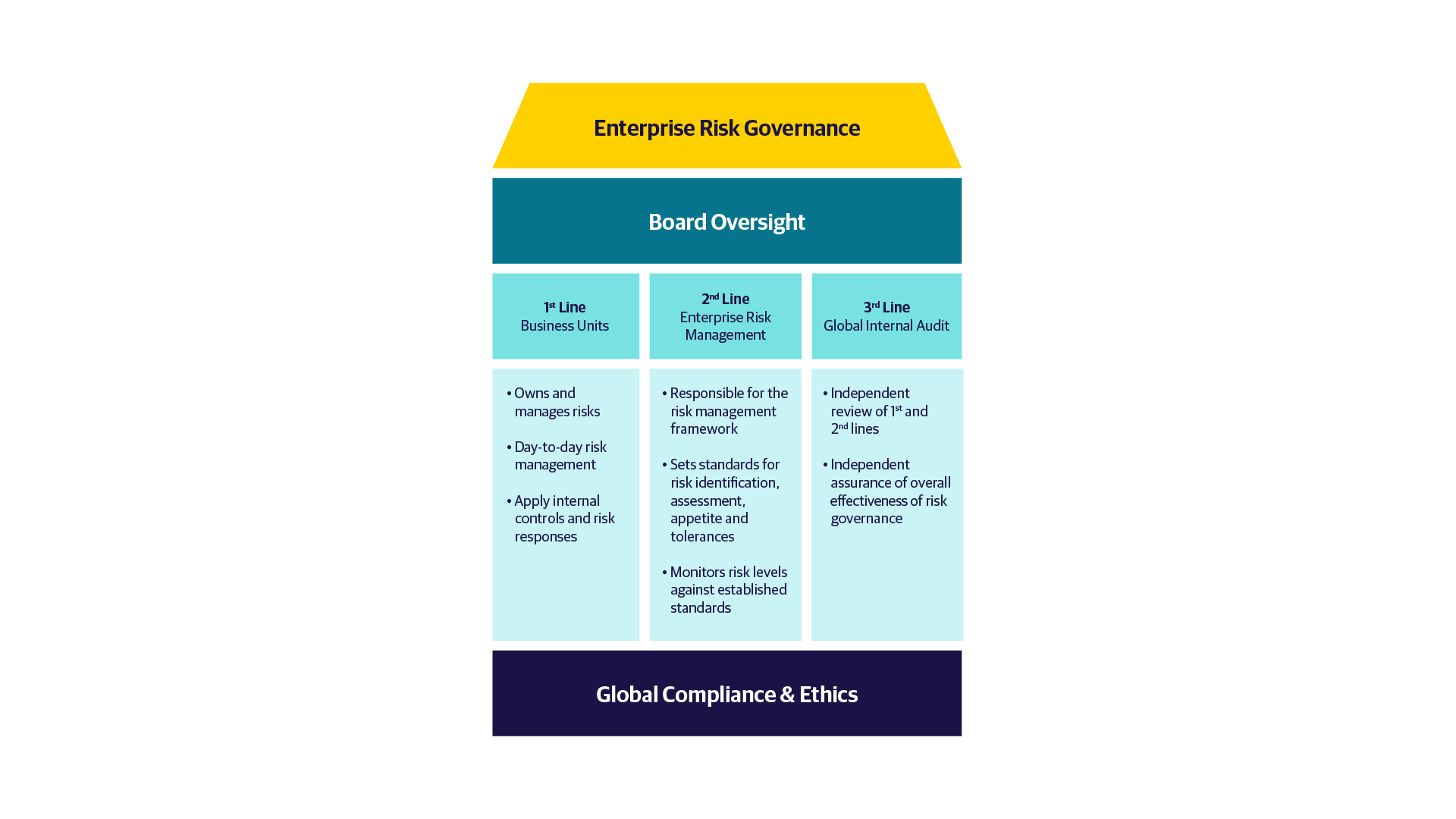 Ethics, Compliance and Integrity 
Grounded in our value of acting responsibly, Liberty Mutual believes in doing business with integrity. Our Code of Conduct guides our employees' ethical behavior, ensuring we do what's right. We champion an ethical culture through frequent discussions about acting responsibly, awareness initiatives and a focus on ethical leadership throughout each layer of the organization. 
We encourage employees to raise questions and concerns to our Compliance Helpline, available 24/7. Although an anonymous option is available, most employees choose to identify themselves, suggesting they feel safe and secure in raising questions or concerns. Read more about our compliance efforts and achievements. 
As a global employer, Liberty Mutual is committed to internationally recognized human rights principles as defined by the United Nations Universal Declaration of Human Rights. In 2021, we formally codified Liberty Mutual's Human Rights Principles, which serve as the basis of our relationships with our employees and other stakeholders in the countries where we operate.