Leaning into our long-time relationships helped us support community partners when they — and the people they serve — needed us most.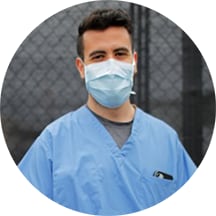 When the COVID-19 crisis struck, many of Liberty Mutual's community partners had to dramatically revise their operating models and ways of working. As their costs increased and logistical challenges multiplied, the needs for the critical services they provide grew sharply.
The trusting relationships that we enjoy with these partners — most of them based on years of close collaboration — proved all-important in 2020. In short, we leaned into our relationships and our established principles and practices,
shouldering some of the due diligence to make it easier for hardworking nonprofits to focus on their missions.
Our response to the pandemic was strategic and multi-pronged: in round 1, we supported shelter, health care and food needs in our communities; in round 2, we helped community health centers; in round 3, we addressed food, elder housing and immigrant needs; and round 4 was focused on eviction protection and food access.
This response was both national and global. In addition to a total commitment of $15 million in COVID-19 related aid in the US, we made cash grants to global nonprofits and donated masks, medical supplies, food, disinfectant products and other necessities in our international locations such as China, India, Ireland, Spain and Brazil. Finally, we empowered our employees to give through virtual or remote programs. In one such program, Liberty Mutual's people placed more than 1,300 phone calls to neighbors suffering from isolation in lockdown. In another, colleagues and their families working at home decorated more than 12,000 duffle bags for children in foster care.
Most importantly, with fast and flexible support, we placed faith in the ability of our community partners, our heroes, to do the impossible. And over and over, that faith was rewarded, as they overcame incredible challenges to do remarkable things.