​​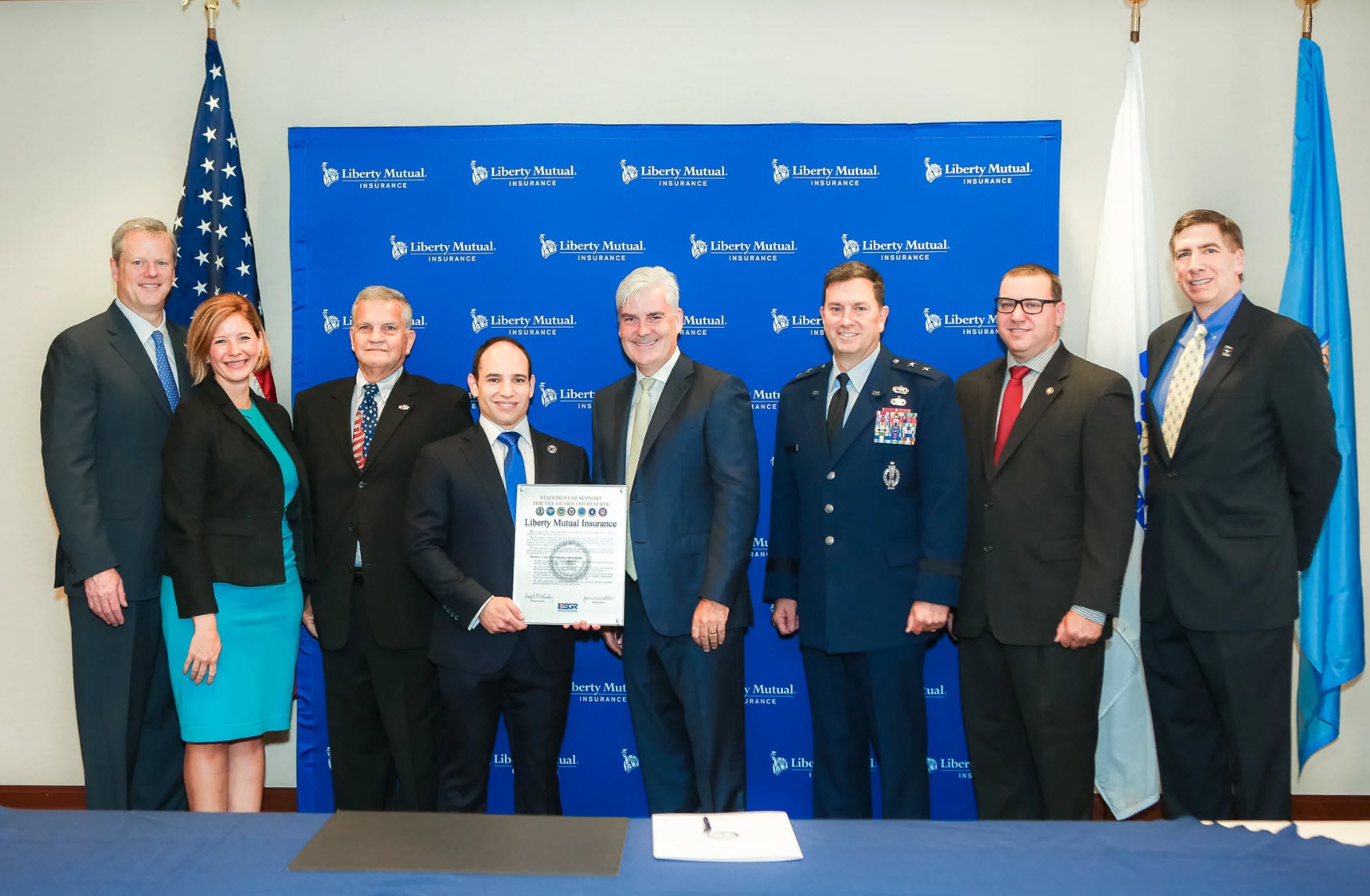 ​CEO David H. Long Joined by MA Governor Charlie Baker and Adjutant General of the MA National Guard Major General Keefe at Signing Ceremony in Liberty's Boston Office
BOSTON, MA – Liberty Mutual Insurance Chairman and CEO David H. Long was joined by Massachusetts Governor Charlie Baker and Major General Gary Keefe, Adjutant General of the Massachusetts National Guard, at a ceremony held today at Liberty Mutual's Boston office in which Mr. Long signed a statement of Support for the Guard and Reserve on behalf of the company.
"The freedoms that we enjoy today are thanks in no small part to the service and sacrifice of our military service members and veterans," said Liberty Mutual Chairman and CEO David H. Long. "Through their military service, these individuals bring unique insights and skill sets to the workplace that help companies be more innovative and competitive. At Liberty, we have a special affinity with military service members and veterans and we are honored to have Governor Baker and Major General Keefe join us today as we sign this statement of support and demonstrate our commitment to hiring military service members and veterans as well as fostering a work environment in which they can thrive."
Liberty Mutual strongly supports the Employer Support of the Guard and Reserve's (ESGR) mission to promote a culture in which employers encourage and value the employment and military service of members of the U.S. National Guard and Reserve. Over the past three and a half years, Liberty has supported nearly 500 military leave cases and is currently supporting 13 employees who are deployed.
The company also works with American Corporate Partners through which Liberty employees have mentored more than 200 veterans. A key partner in this and all of Liberty's military initiatives is the employee resource group (ERG) Valor@Liberty, which seeks to engage and empower Liberty's military, veteran and ally community through building a strong internal network to foster personal and professional growth and support external initiatives and programs. One of six ERGs at Liberty, Valor@Liberty works in conjunction with the company's Office of Diversity and Inclusion to create an environment where all employees can bring their best selves to work.

About Liberty Mutual Insurance
Liberty Mutual Insurance helps people preserve and protect what they earn, build, own and cherish. Keeping this promise means we are there when our policyholders throughout the world need us most.
In business since 1912, and headquartered in Boston, Mass., today we are a leading global insurer with operations in 30 countries and economies around the world. We are the fourth largest property and casualty insurer in the U.S. based on 2016 direct written premium data as reported by the National Association of Insurance Commissioners. We also rank 75th on the Fortune 100 list of largest corporations in the U.S. based on 2016 revenue. As of December 31, 2016, we had $38.3 billion in annual consolidated revenue.

We employ more than 50,000 people in over 800 offices throughout the world.
We offer a wide range of insurance products and services, including personal automobile, homeowners, accident & health, commercial automobile, general liability, property, surety, workers compensation, group disability, group life, specialty lines, reinsurance, individual life and annuity products. You can learn more about us by visiting www.libertymutualinsurance.com.
Contact:
Adrianne Kaufmann
Adrianne.kaufmann@libertymutual.com
617-574-5983