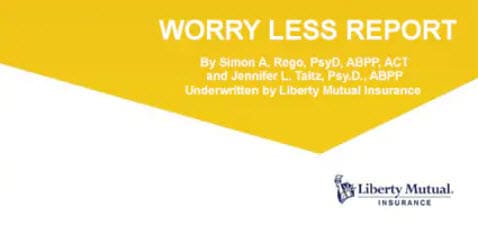 May 09, 2016 - Leading psychologists offer insights and tips for home and auto owners looking to lead a life with less worry and more confidence
If you've experienced a flat tire or a leaky roof, you're most likely familiar with worrying. Worrying is inevitable, especially when it comes to the uncertainties we face in our cars or homes, but how can you worry less? From staying calm during a roadside breakdown to mastering a home improvement project with confidence, Liberty Mutual Insurance set out to gain insights on ways to help mitigate worries that home and auto owners commonly face as they aim to protect their largest investments and seek security. The company released today the Liberty Mutual Insurance Worry Less Report, a summary of peer-reviewed research from the past 20 years that sheds light on the science of worrying and how to break the worry cycle.
According to research found in the Liberty Mutual Insurance Worry Less Report, 38 percent of people worry every day, most frequently in the early morning or late evening. Unlike the stereotypical depictions of older adults fretting, worry actually significantly diminishes as we age. Studies consistently find that older adults worry less than younger ones and that what we worry about varies at different stages in our lives. In fact, older adults taking a retrospective look on their life frequently say their biggest regret is that they spent so much time worrying.
Financial and housing worries are typically the highest for those ranging in age from 25-44, years marked by pivotal life changes including purchasing a first home or growing families. This age group commonly grapples with protecting what they are working hard to achieve, whether it be a new home renovation that boosts curb appeal or a new car designed to keep the family safe.
The report was co-authored by Simon A. Rego, PsyD, ABPP, ACT, a Board Certified Cognitive Behavioral Psychologist who Liberty Mutual has partnered with to provide insights on how to mitigate worries. From troubleshooting everyday problems to providing protection for unexpected issues that may arise, Liberty Mutual is helping home and auto owners feel more confident and secure.
"A growing body of scientific literature suggests that consistent worrying can have both short and long term effects on your well-being," says Dr. Rego. "Perhaps most simply stated, worrying is a behavior that steals joy, affecting sleep and decision making. It's understandable to feel more overwhelmed when facing new situations, such as moving into a new home or buying a car, but there are simple ways to contain worry to live a more fulfilled life."
"We want our customers to worry less and have the knowledge and tools to be prepared to deal with uncertainty whether it's the inconvenience of a flat tire or the stress of a weather emergency," said Margaret Dillon, executive vice president and Chief Customer Officer, U.S. Consumer Markets at Liberty Mutual Insurance. "Liberty Mutual commissioned this report to better understand how Americans can get beyond their worries and how we can provide the best possible products and services to help them feel the most protected as home and auto owners."
Dr. Rego offers the following tips to worry less at home or on the road:
Pencil It In: Instead of worry sneaking up on you throughout the day to steal your moments and mood, you can actually schedule time to worry. You can pick a time of day and make that your designated time to worry for about 30 minutes. You'll find the time may come and go without even having to use it.
Break It Down: Replace obsessing with a conscientious plan. If approaching problems like tackling home upgrades or auto repairs feel overwhelming, you can break the challenge into parts reducing worry in the long run: Define the problem, Clarify your goals, Generate solutions, and Experiment with solutions.
Accept Uncertainty: One of the most significant predictors of worry is the intolerance of uncertainty. For example, if you're moving homes, you may be worried about certain items getting lost or damaged; however, taking proactive steps such as documenting your possessions, can help with peace of mind in case something happens.
To download and read the full-text Liberty Mutual Worry Less Report, visit www.libertymutualgroup.com/liberty-mutual-news
About Liberty Mutual Insurance
Liberty Mutual Insurance helps people preserve and protect what they earn, build, own and cherish. Keeping this promise means we are there when our policyholders throughout the world need us most.
In business since 1912, and headquartered in Boston, Mass., today Liberty Mutual is a diversified insurer with operations in 30 countries and economies around the world. The company is the fifth largest property and casualty insurer in the U.S. based on 2015 direct written premium data as reported by the National Association of Insurance Commissioners. Liberty Mutual is ranked 78th on the Fortune 100 list of largest corporations in the U.S. based on 2014 revenue. The company employs over 50,000 people in more than 900 offices throughout the world.
The fifth-largest auto and home insurer in the U.S., Liberty Mutual (libertymutual.com) sells full lines of coverage for automobile, homeowners, valuable possessions, personal liability, and individual life insurance. The company is an industry leader in affinity partnerships, offering car and home insurance to employees and members of more than 14,000 companies, credit unions, professional associations and alumni groups.

Media Contact:
Glenn Greenberg
617-574-5874
Glenn.Greenberg@libertymutual.com
Carolyn Evert
617-585-5790
cevert@360pr.com