BOSTON (June 16, 2022) – Today, Points of Light, the world's largest nonprofit dedicated to accelerating people-powered change, announced The Civic 50 2022 honorees and a report featuring key trends, benchmarking data and insights from the honorees. Liberty Mutual Insurance has been named a  2022  honoree of The Civic 50.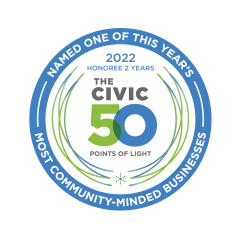 For 10 years, The Civic 50 has provided a national standard for corporate citizenship and showcases how companies can use their time, skills, and resources to drive social impact in their communities and company. The Civic 50 honorees are companies with annual U.S. revenues of at least $1 billion and are selected based on four dimensions of their corporate citizenship and social impact programs – investment of resources, integration across business functions, institutionalization through policies and systems and impact measurement.  
Throughout 2021, Liberty Mutual's ongoing commitment to advance security and build resiliency for the communities they serve did not waiver. The company contributed $40 million to more than 500 nonprofits including $5 million in grants to organizations responding to the COVID-19 pandemic. Liberty Mutual employees donated nearly $9 million to more than 8,900 nonprofits globally, which was matched through the company's Give with Liberty program. Overall, total corporate and employee giving reached more than $55 million.  
In addition to corporate giving, Liberty Mutual lived its purpose to help people embrace today and confidently pursue tomorrow through public advocacy work, the advancement of Diversity, Equity and Inclusion initiatives, an investment in employee well-being and more. 
"I am endlessly inspired by the company and our people for the ways they come together to build resiliency and a sense of security for our customers, employees and communities," said Melissa MacDonnell, President, Liberty Mutual Foundation, Vice President, Community Investments, Liberty Mutual Insurance. "It's an honor to be included on the Civic 50 list for the second consecutive year as we continue to dedicate time and resources to address the world's most pressing environmental, social and economic challenges." 
"Corporate leadership and commitment to civic engagement is critical for strengthening communities," said Natalye Paquin, president & CEO of Points of Light. "Our most recent global research shows 86 percent of people say they expect companies to take action on a social issue. Companies like Liberty Mutual are leading the way and setting an example of how you can leverage your employee talent, business models and assets to create deep impact that drives transformational change." 
The Civic 50 survey is administered by True Impact and consists of quantitative and multiple-choice questions that inform scoring process. The Civic 50 is the only survey and ranking system that exclusively measures corporate involvement in communities.  
To view the full report and see the full list of The Civic 50 2022 honorees, visit www.pointsoflight.org/the-civic-50. 
# # # 
About Liberty Mutual Insurance  
At Liberty Mutual, we believe progress happens when people feel secure. By providing protection for the unexpected and delivering it with care, we help people embrace today and confidently pursue tomorrow. 
In business since 1912, and headquartered in Boston, today we are the sixth largest global property and casualty insurer based on 2020 gross written premium. We also rank 78 on the Fortune 100 list of largest corporations in the U.S. based on 2021 revenue. As of December 31, 2021, we had $48.2 billion in annual consolidated revenue. 
We employ over 47,000 people in 29 countries and economies around the world. We offer a wide range of insurance products and services, including personal automobile, homeowners, specialty lines, reinsurance, commercial multiple-peril, workers compensation, commercial automobile, general liability, surety, and commercial property.  
For more information, visit: http://www.libertymutualinsurance.com.  
About Points of Light 
Points of Light is a nonpartisan, global nonprofit organization that inspires, equips and mobilizes millions of people to take action that changes the world. We envision a world in which every individual discovers the power to make a difference, creating healthy communities in vibrant, participatory societies. Through 177 affiliates across 38 countries, and in partnership with thousands of nonprofits and corporations, Points of Light engages 5 million volunteers in 16 million hours of service each year. We bring the power of people to bear where it's needed most. For more information, visit www.pointsoflight.org.