Company Recognized for Wide-Range of Innovative Solutions
Last night, Liberty Mutual Insurance's Chief Legal Officer James Kelleher accepted the Association of Corporate Counsel's 2019 Legal Operations Team of the Year Award on behalf of Liberty's Legal Strategic Services (LSS) group.
The Association of Corporate Counsel (ACC), the world's largest in-house counsel organization, recognized Liberty for its adoption and implementation of the ACC's Legal Operations Maturity Model, guides development of innovative and more efficient legal solutions.
By adopting and building upon the ACC's model, Liberty can help its customers more efficiently allocate their legal spend through enhanced processes and analytics that improve outcomes. For example, to help resolve claims more efficiently Liberty's LSS team put multiple foundational systems in place including knowledge management, Robotic Process Automation, advanced natural language processing and data modeling, and matter management / intake applications to enhance litigation management and expedite payment processes.
"Our Legal Strategic Services team makes us a better legal team by developing and implementing actionable and practical solutions in an innovative manner," said Kelleher. "While the solutions we have developed help Liberty Mutual be a stronger partner for our customers and internal partners, we are equally proud of the scalability of our solutions and that they are helping legal teams large and small be more efficient and effective."
Over the last two years, Liberty's LSS group has evolved into the Intermediate and Advanced categories in every dimension of the ACC's Maturity Model. Liberty's Legal Ideation & Transformation (LI&T) group is a standout performer in the ACC's newly added Innovation dimension.
"Liberty has long advocated for the legal industry to seek out and adopt innovative solutions that help us keep abreast of technological advances," said Catherine J. Moynihan, ACC associate vice president, legal management services, and head of ACC Legal Operations. "But being an advocate without putting our words into action helps no one. We are so pleased that the solutions we have worked hard to develop hold broad industry applicability and allow all legal professionals to do their best work and practice at the upper end of their licenses. Through the team's leadership and openness, they lift the whole profession."
LSS's core competencies include managing outside counsel and vendor spend, bill paying and auditing services, analyzing and reporting on internal data and external competitive intelligence trends, developing predictive models to manage legal spend and outcomes, administering knowledge management and systems solutions, project management and consulting on business workflows and efficiencies, and exploring and integrating innovation solutions for legal services. These competencies, along with strategic planning, have helped the Legal Department evolve into a metrics driven organization supported by deep legal expertise.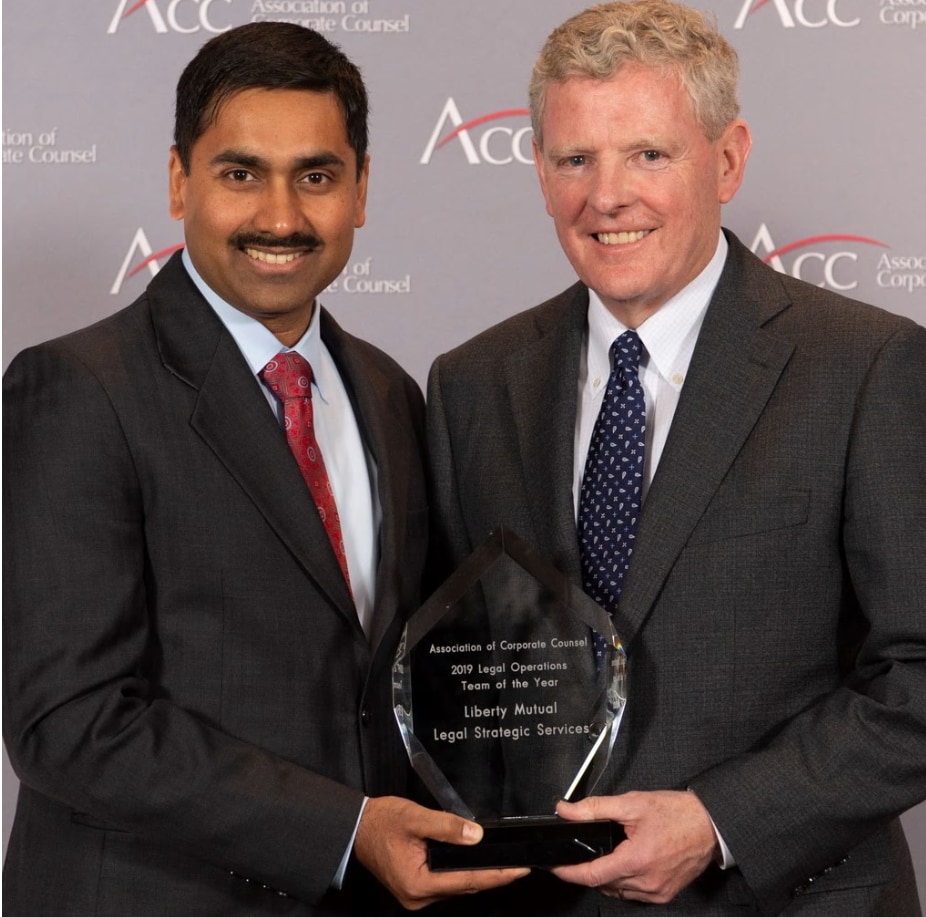 Examples of how LSS has put the ACC's Maturity Model into action include:
Change Management - A leader in advancing a culture of innovation and positive change. LSS hosts Vendor Days, in which legal vendors highlight their solutions onsite in interactive sessions with Legal Department leaders. LSS also organizes two annual Legal Design Challenges: externally with Suffolk Law School; and internally where Department employees from all over the country learn design thinking and present innovative solutions to pressing issues.
Contract Management - Implemented numerous workflows and contract creation using Neota Logic, including DocuSign integration. Also employed LawGeex to utilize AI in contract review and workflow.
External Resources Management - Maturing use of both law firms and alternative legal service providers including Novus Law, Integreon, Thompson and Axiom (addressing long-term operational needs and surge capacity). Counsel panel management and sourcing decisions are integrated into the legal services delivery model. Counsel selection and vendor management are centralized for pricing engagements and performance reviews.
Metrics and Analytics - Developed Power BI dashboards for all legal and many client-facing functions. Data scientists who are embedded in the legal operations function analyze curated collections of legal billing, matter, and claims data. By assimilating complex data sets, LSS delivers deep learning analytics leading to actionable insights. Clear benchmarks, advanced data analytic tools and a maturing data strategy enable predictive analytics and modeling.
Project & Process Management - Executive sponsorship led to a clear recognition of the value of project management and process improvement professionals embedded in the Legal Department. These competencies have uncovered inefficiencies, helping to integrate technologies that further enable the Legal Department to close the gap between strategy and execution. Process improvement is part of the Legal Department culture and is deployed before applying any technological or change management solutions.
About ACC: The Association of Corporate Counsel (ACC) is a global legal association that promotes the common professional and business interests of in-house counsel who work for corporations, associations and other organizations through information, education, and advocacy. With more than 45,000 members in 85 countries employed by over 10,000 organizations, ACC connects its members to the people and resources necessary for both personal and professional growth.
About Liberty Mutual Insurance
Liberty Mutual's purpose is to help people embrace today and confidently pursue tomorrow. The promise we make to our customers throughout the world is to provide protection for the unexpected, delivered with care.
In business since 1912, and headquartered in Boston, Mass., today we are the fifth largest global property and casualty insurer based on 2017 gross written premium. We also rank 68th on the Fortune 100 list of largest corporations in the U.S. based on 2017 revenue. As of December 31, 2018, we had $41.6 billion in annual consolidated revenue.
We employ nearly 50,000 people in 30 countries and economies around the world. We offer a wide range of insurance products and services, including personal automobile, homeowners, specialty lines, reinsurance, commercial multiple-peril, workers compensation, commercial automobile, general liability, surety, and commercial property. You can learn more about us by visiting www.libertymutualinsurance.com.