Liberty Mutual earns designation as one of the Best Places to Work for LGBTQ+ Equality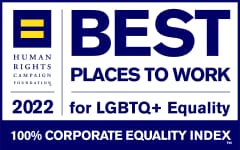 BOSTON (Jan. 27, 2022) – For the fifth consecutive year, Liberty Mutual Insurance has received a score of 100 on the Human Rights Campaign Foundation's 2022 Corporate Equality Index, the nation's leading benchmarking survey and report for corporate policies and practices in support of LGBTQ+ workplace equality.
The results of the 2022 CEI showcase how 1,271 U.S.-based companies are not only promoting LGBTQ+-friendly workplace policies in the U.S., but also for the 56% of CEI-rated companies with global operations, how they are helping advance LGBTQ+ inclusion in workplaces abroad. Liberty Mutual's efforts in satisfying all of the CEI's criteria earned a 100 percent ranking and the designation as one of the Best Places to Work for LGBTQ+ Equality.
"We are invested in creating a diverse, equitable and inclusive environment where all employees feel a sense of community and belonging," said Liberty Mutual Executive Vice President and Global Diversity, Equity & Inclusion Officer Dawn Frazier-Bohnert. "It is an honor to have our actions recognized by the Human Rights Campaign, reinforcing our commitment to building a global culture with opportunity for all."
Liberty Mutual's efforts to increase diversity, equity and inclusion extend across the organization, with programs and initiatives to build a diverse pipeline of talent, deliver equitable career and advancement opportunities and ensure an inclusive workplace environment. The company's seven Employee Resource Groups (ERGs), which includes a community for LGBTQ+ employees and allies, offer a centralized, open space to bring more than 13,000 employees together.
"When the Human Rights Campaign Foundation created the Corporate Equality Index 20 years ago, we dreamed that LGBTQ+ workers—from the factory floor to corporate headquarters, in big cities and small towns—could have access to the policies and benefits needed to thrive and live life authentically," said Jay Brown, Human Rights Campaign Senior Vice President of Programs, Research and Training. "We are proud that the Corporate Equality Index paved the way to that reality for countless LGBTQ+ workers in America and abroad. But there is still more to do, which is why we are raising the bar yet again to create more equitable workplaces and a better tomorrow for LGBTQ+ workers everywhere. Congratulations to Liberty Mutual for achieving the title of 'best places to work for LGBTQ+ equality' and working to advance inclusion in the workplace."
The full report is available online at www.hrc.org/cei.
###
About The Human Rights Campaign Foundation
The Human Rights Campaign Foundation is the educational arm of the Human Rights Campaign (HRC), America's largest civil rights organization working to achieve equality for lesbian, gay, bisexual, transgender and queer (LGBTQ+) people. Through its programs, the HRC Foundation seeks to make transformational change in the everyday lives of LGBTQ+ people, shedding light on inequity and deepening the public's understanding of LGBTQ+ issues, with a clear focus on advancing transgender and racial justice. Its work has transformed the landscape for more than 15 million workers, 11 million students, 1 million clients in the adoption and foster care system and so much more. The HRC Foundation provides direct consultation and technical assistance to institutions and communities, driving the advancement of inclusive policies and practices; it builds the capacity of future leaders and allies through fellowship and training programs; and, with the firm belief that we are stronger working together, it forges partnerships with advocates in the U.S. and around the globe to increase our impact and shape the future of our work.
About Liberty Mutual Insurance
At Liberty Mutual, we believe progress happens when people feel secure. By providing protection for the unexpected and delivering it with care, we help people embrace today and confidently pursue tomorrow.
In business since 1912, and headquartered in Boston, today we are the sixth largest global property and casualty insurer based on 2020 gross written premium. We also rank 71st on the Fortune 100 list of largest corporations in the U.S. based on 2020 revenue. As of December 31, 2020, we had $43.8 billion in annual consolidated revenue.
We employ over 45,000 people in 29 countries and economies around the world. We offer a wide range of insurance products and services, including personal automobile, homeowners, specialty lines, reinsurance, commercial multiple-peril, workers compensation, commercial automobile, general liability, surety, and commercial property. 
For more information, visit www.libertymutualinsurance.com