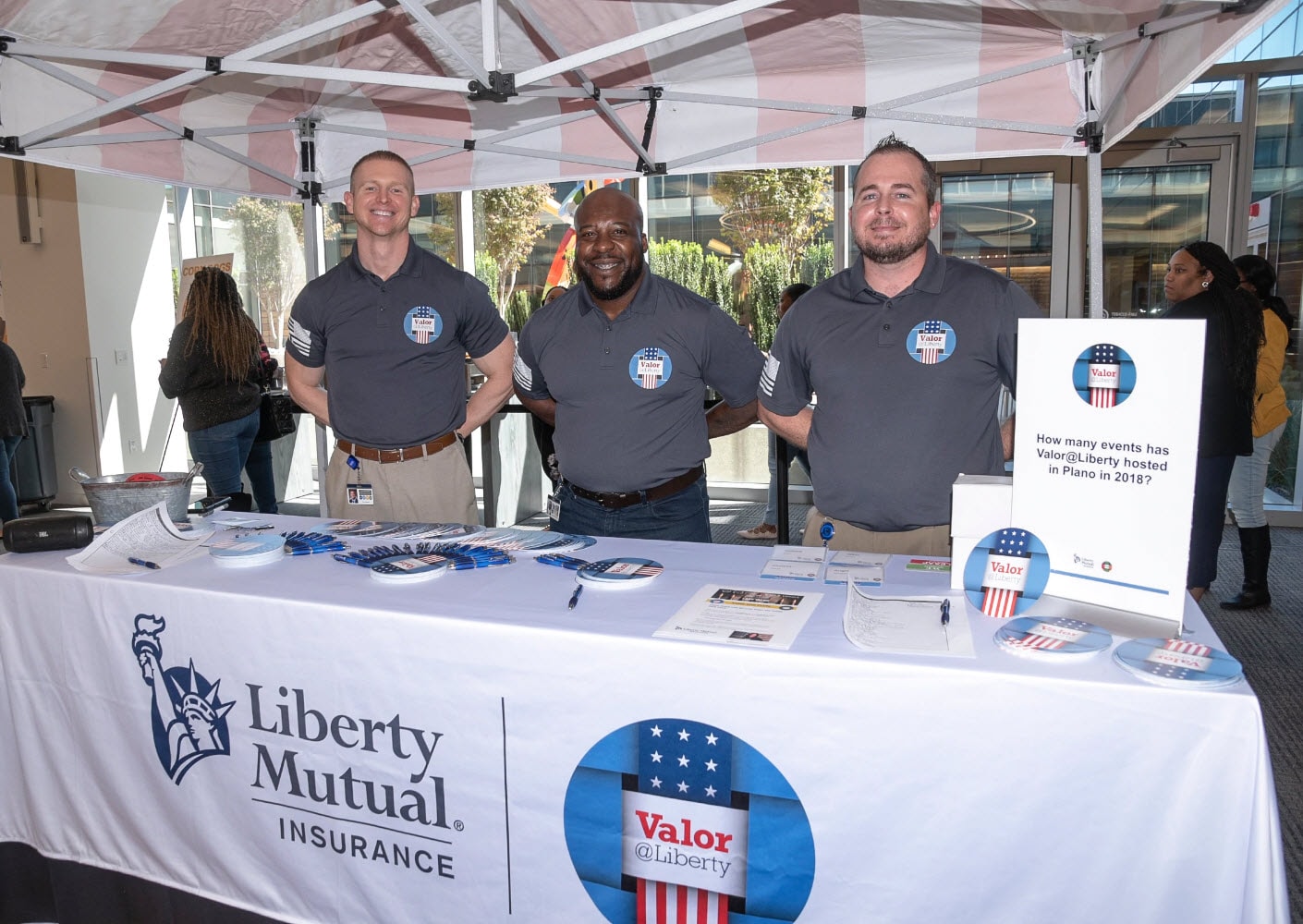 Liberty Mutual Insurance is honored to be designated as a Military Friendly® Employer by the Military Friendly organization for the second consecutive year. Military Friendly is the standard that measures an organization's commitment, effort and success in creating sustainable and meaningful opportunity for the military community.
"Military service members and veterans bring unique insights and skill sets to the workplace that help companies like Liberty be more innovative and competitive," said Melanie Foley, Liberty Mutual Insurance Executive Vice President and Chief Talent and Enterprise Services Officer. "We are pleased to receive this designation as it validates our efforts to attract job candidates with valuable military service and make Liberty a place where they want to stay and grow their career."
Liberty Mutual is proud to support its employees who are military service members and veterans through opportunities and programs that ensure they have the support they need to build fulfilling careers. The company offers a competitive pay and benefits package that includes paid time off and continuation of benefits for annual training, as well as up to two years of pay differential and benefits continuation for military members called to active duty, including the National Guard and Reserve.
Liberty Mutual is a signatory of the Statement of Support for the Guard and Reserve and in 2018 received the Massachusetts Employer Support of the Guard and Reserve (ESGR) Pro Patria Award in the Large Business Category. Liberty Mutual strongly supports the ESGR's mission to promote a culture in which employers encourage and value the employment and military service of members of the U.S. National Guard and Reserve.
The company is also a Corporate Partner of the national nonprofit organization American Corporate Partners (ACP). A key collaborator in this and all of Liberty Mutual's military initiatives is the employee resource group (ERG) Valor@Liberty, which seeks to engage and empower the company's military, veteran and ally community through building a strong internal network to foster personal and professional growth and support external initiatives and programs. One of the company's six ERGs, Valor@Liberty works in conjunction with the company's Office of Diversity and Inclusion to create an environment where all employees can bring their whole selves to work.
In addition, Liberty Mutual supports military-specific organizations through sponsorship and philanthropic giving. The company is the title sponsor of the Liberty Mutual Invitational, the #1 Charity Event in Golf. Each year, thousands of golfers participate in local amateur golf tournaments directly benefitting national and local charities. Military-specific charities supported by the Invitational include Caddy For A Cure, Disabled American Veterans, Fairways for Freedom, and Birdies for the Brave.
Liberty Mutual also has given a multi-year grant of $50,000 with the New England Center for Homeless Veterans, an association the company has supported since 2008, as well as provided a $50,000 grant to Boston-based New England Center and Home for Veterans and a $30,000 grant to Community Rowing, an organization that offers free programs to veterans. In addition, Liberty Mutual employee donation and match totaled $393,363 in contributions for Veterans organizations across the country.
The Military Friendly ratings program was started in 2003 as an advocacy vehicle to encourage civilian organizations to invest in programs to recruit, retain and advance veterans as employees, entrepreneurs and students. Military Friendly Employers strive towards and succeed in the areas that matter most in helping veterans and other members of the military community make the transition from the military to satisfying employment in the civilian world. Having the designation shows that an organization is better for veterans, with the hiring, retention, advancement and employee development programs in place to help them reach their career goals. Companies are selected based on information sourced from three categories: public data sources, proprietary survey data, and personal data from surveys of veterans themselves.
About Liberty Mutual Insurance
Liberty Mutual's purpose is to help people embrace today and confidently pursue tomorrow. The promise we make to our customers throughout the world is to provide protection for the unexpected, delivered with care.
In business since 1912, and headquartered in Boston, Mass., today we are the fifth largest global property and casualty insurer based on 2018 gross written premium. We also rank 75th on the Fortune 100 list of largest corporations in the U.S. based on 2018 revenue. As of December 31, 2018, we had $41.6 billion in annual consolidated revenue.
We employ nearly 50,000 people in 30 countries and economies around the world. We offer a wide range of insurance products and services, including personal automobile, homeowners, specialty lines, reinsurance, commercial multiple-peril, workers compensation, commercial automobile, general liability, surety, and commercial property.
You can learn more about us by visiting www.libertymutualinsurance.com.