BOSTON (September 12, 2022) - Liberty Mutual Insurance today announced appointments to two newly created roles in Global Risk Solutions (GRS) Office of Underwriting. Effective September 26, Julia Chu will join as Head of Underwriting Planning, Performance & Portfolio Management, and Thomas Leahy will become Global Product Leader, Financial Lines. Both will report to GRS President of Underwriting Matthew Moore.
Chu will establish a global GRS underwriting strategy, working with leaders across the commercial and specialty (re)insurance unit, while providing actionable insights to manage market dynamics and drive results. She brings more than 20 years of strategy and transformation leadership experience, and joins from Markel, where she was Chief Risk Officer.
Leahy will be responsible for Financial Lines globally. In this role, he will set the global product strategy, monitor overall performance of the portfolio, and partner with the newly appointed chief underwriting officers across GRS to ensure successful execution.  He has more than 20 years of leadership experience, including more than 15 with Liberty Mutual. Leahy is currently President, Professional Liability, for GRS North America Specialty.  
"With the appointments of Julia and Tom, we continue to build an unparalleled team that adds value to brokers, partners and clients by bringing our global expertise and resources to help better manage complex and emerging risks," said Moore. "Julia and Tom will help drive underwriting performance through consistent global product strategies and portfolios based on a common view of risk."
Chu and Leahy are the most recent appointments by Moore since he was named GRS President of Underwriting in April of this year. Earlier this year, he appointed Chantal Rodriguez as Liberty Mutual Reinsurance Chief Underwriting Officer, Brandon Fick as North America Chief Underwriting Officer, Nate Zangerle as Chief Underwriting Officer for Global Surety and Elizabeth Geary as President, Insurance Solutions.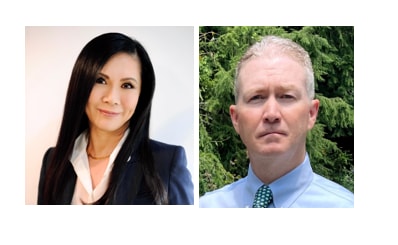 ###
About Liberty Mutual Insurance 
At Liberty Mutual, we believe progress happens when people feel secure. By providing protection for the unexpected and delivering it with care, we help people and businesses embrace today and confidently pursue tomorrow. 
In business since 1912, and headquartered in Boston, today we are the sixth largest global property and casualty insurer based on 2020 gross written premium. We also rank 78 on the Fortune 100 list of largest corporations in the US based on 2021 revenue. As of December 31, 2021, we had $48.2 billion in annual consolidated revenue. 
We employ over 45,000 people in 29 countries and economies around the world. We offer a wide range of insurance products and services, including personal automobile, homeowners, specialty lines, reinsurance, commercial multiple-peril, workers compensation, commercial automobile, general liability, surety, and commercial property. 
For more information, visit www.libertymutualinsurance.com. 
Contact: mediarelations@libertymutual.com