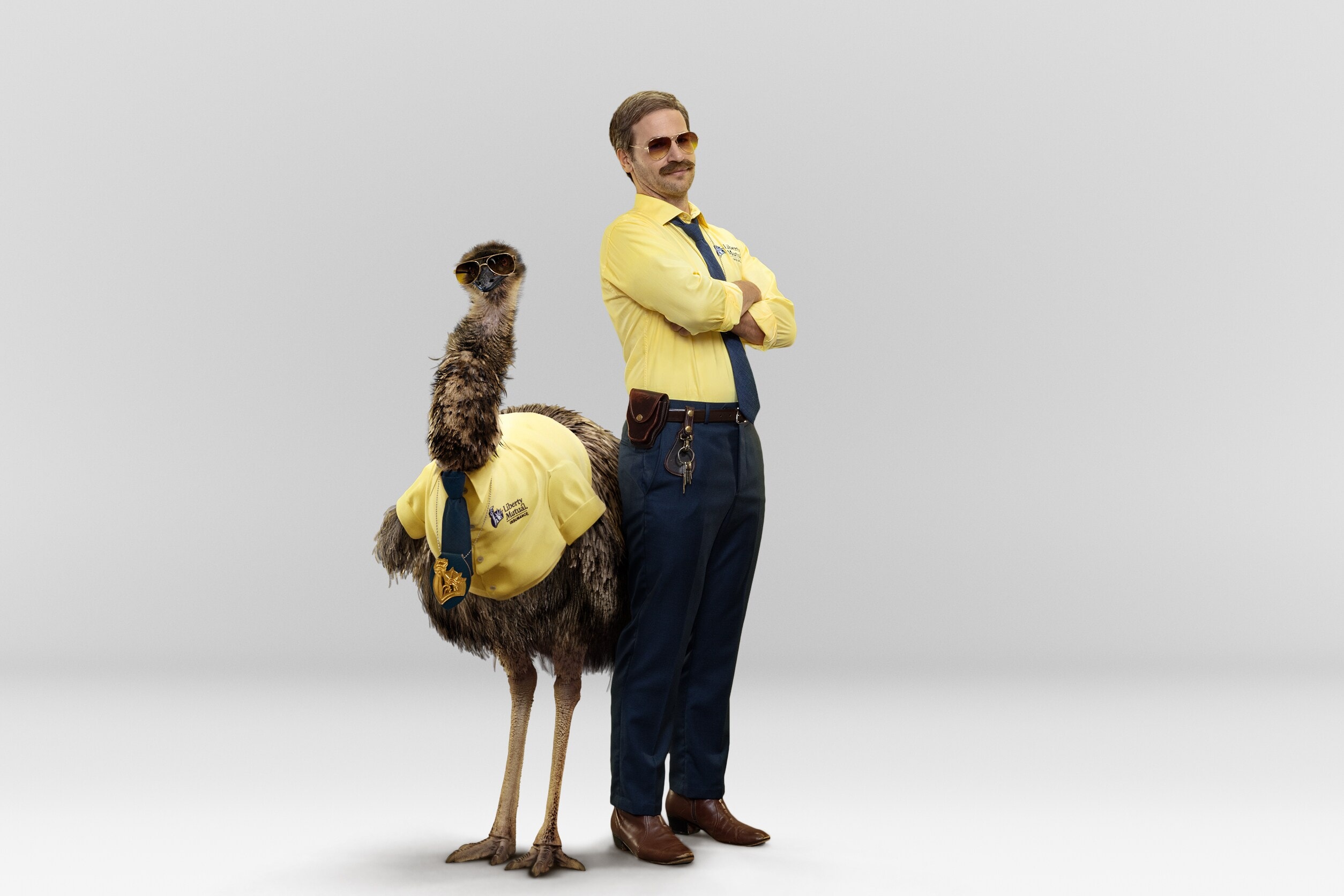 LiMu Emu and Doug star in Liberty Mutual Insurance's new ad campaign. The duo appear in new spots to spread word that Liberty Mutual customizes coverage so you'll only pay for what you need
New campaign illustrates brand's approach to offering customized insurance coverage, stresses importance of helping consumers only pay for what they need
A few new faces (and feathers) are moving into the advertising world: meet LiMu Emu and Doug, the stars of Liberty Mutual Insurance's new national advertising campaign that launches today. The fictional dynamic duo are passionate about saving people from overpaying for one-size-fits-all insurance. The creative content was developed by Goodby Silverstein & Partners (GS&P), Liberty Mutual's creative agency of record. The ads can be reviewed here.
The new campaign kicks off with a series of 30-second commercials introducing the humorous and over-the-top duo who appear on the scene to share their knowledge and help protect people from paying too much for insurance coverage. LiMu Emu and Doug bring a new twist to the classic buddy-cop duo – partners guided by the notion that it's a crime to pay for things you don't need – going above and beyond to ensure they do their duty.
"We want to help our customers get the best value out of their insurance policy by customizing their coverage so they have exactly what they need and never overpay," said Emily Fink, chief marketing officer, Global Retail Markets (U.S.), at Liberty Mutual Insurance. "We're introducing this memorable duo of LiMu Emu and Doug to demonstrate Liberty Mutual's customized approach to insurance with a bit of surprise and humor."
The new commercials were directed by Craig Gillespie, award-winning Australian feature film, television, and commercial director best known for his films Lars and the Real Girl and I, Tonya. Gillespie is recognized for his sharp, offbeat comedy and ability to inspire honest performances. Gillespie and GS&P collaborated with The Mill, a visual effects and content creation studio, to bring LiMu Emu to life with cutting-edge CGI technology, including a proprietary fur and feather system.
"The insurance category is a competitive space, and there is a need to break through to capture people's attention," said Jeff Goodby, co-chairman and partner at GS&P. "LiMu and Doug bring a much-needed emu-and-human-sidekick elegance to it all. It's fun and memorable, and this is only the beginning for Liberty Mutual."
The 30-second TV spots will run nationally concurrently with the brand's current "Truth Tellers" campaign that launched in 2014. The ads will run on a variety of national network and cable properties. Liberty Mutual's newly expanded in-house creative agency Copper Giants™ will be developing the assets to amplify the campaign across social, digital and other channels.
About Liberty Mutual Insurance
Liberty Mutual's purpose is to help people embrace today and confidently pursue tomorrow. The promise we make to our customers throughout the world is to provide protection for the unexpected, delivered with care. In business since 1912, and headquartered in Boston, Mass., today we are a leading global insurer with operations in 30 countries and economies around the world. We are the third largest property and casualty insurer in the U.S. based on 2017 direct written premium data as reported by the National Association of Insurance Commissioners. We also rank 68th on the Fortune 100 list of largest corporations in the U.S. based on 2017 revenue. Liberty employs nearly 50,000 people throughout the world. The sixth largest auto and home insurer in the U.S., Liberty Mutual (www.libertymutual.com) sells full lines of coverage for automobile, homeowners, small commercial, valuable possessions and personal liability insurance. We are an industry leader in affinity partnerships, offering car and home insurance to employees and members of more than 15,000 companies, credit unions, professional associations and alumni groups.
Media Contact:
Glenn Greenberg
617-574-5874
Glenn.Greenberg@libertymutual.com
Andrea Salzman
617-585-5762
asalzman@360pr.plus