Annual Study Identifies the Causes and Costs of the most Serious Workplace Injuries Across the Economy and for Specific Industries
The findings of the latest Liberty Mutual Workplace Safety Index can help companies restarting and adapting operations better manage and mitigate risk by focusing efforts to improve safety on the leading causes of the most serious workplace accidents, those causing an employee to miss more than five days from work.
"Improving safety is critical to better protecting workers and companies' bottom-lines," said Liberty Mutual National Insurance Risk Control Vice President and General Manager James Merendino. "Effectively doing so requires employers – working with their brokers and insurers – to focus on the causes of the most serious injuries. By delivering this information, the Workplace Safety Index can play a key role in guiding these efforts at this critical time."
The ten most costly causes of workplace injuries and illnesses according to the 2020 Liberty Mutual Workplace Safety Index can be seen here.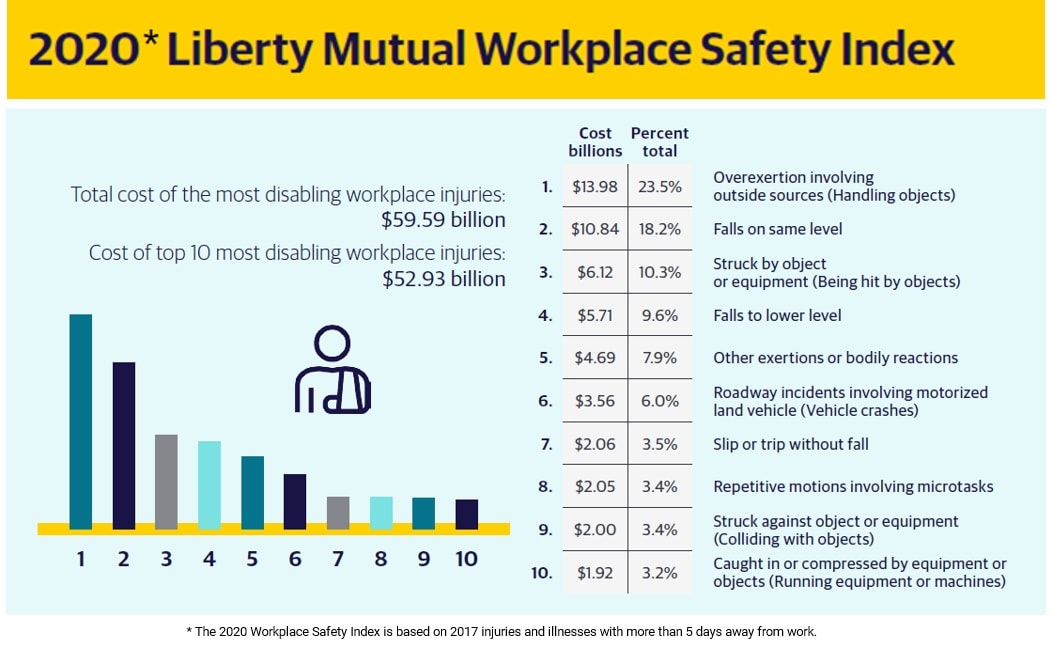 This year's Index also includes findings by specific industry.
Now in its 20th year, the Index identified two interesting trends over that time:
The overall number of serious workplace injuries has decreased, while medical costs have increased above overall inflation

Overexertion

and Falls on same level have been the consistent top two injury causes
###
About Liberty Mutual Insurance
At Liberty Mutual, we believe progress happens when people feel secure. By providing protection for the unexpected and delivering it with care, we help people embrace today and confidently pursue tomorrow.
In business since 1912, and headquartered in Boston, today we are the sixth largest global property and casualty insurer based on 2019 gross written premium. We also rank 77th on the Fortune 100 list of largest corporations in the U.S. based on 2019 revenue. As of December 31, 2019, we had $43.2 billion in annual consolidated revenue.
We employ over 45,000 people in 29 countries and economies around the world. We offer a wide range of insurance products and services, including personal automobile, homeowners, specialty lines, reinsurance, commercial multiple-peril, workers compensation, commercial automobile, general liability, surety, and commercial property.
For more information, visit www.libertymutualinsurance.com.