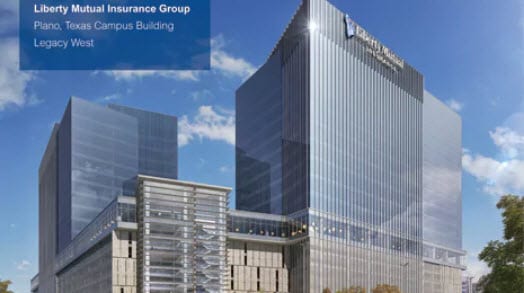 Nineteen Story Office Building Will Be Home for Over 4,000 Employees; Project Creating an Additional 1,000 Construction Jobs
September 30, 2015 - Liberty Mutual Insurance today kicked off construction of its new cornerstone campus in Plano, Texas at a groundbreaking ceremony hosted by Liberty Mutual Chairman and CEO David H. Long and Chief Talent and Enterprise Services Officer Melanie Foley.
Liberty Mutual's more than $325 million expansion project will bring over 4,000 employees to Plano and an additional 1,000 construction jobs. Located in the vibrant Legacy West development, Liberty Mutual's Plano campus offers employees convenient access to shops, restaurants and apartments. This proximity, combined with in-office amenities such as an on-site medical center, full-service cafeteria, covered parking, full locker rooms, and two rooftop gardens for relaxation help support employees' lifestyles and demands and provide an environment where they can be their best, both personally and professionally.
"Today is a very special day for us at Liberty as we break new ground on our first significant new campus outside the Northeast," said Mr. Long. "After an extensive and rigorous review, we came to the indisputable conclusion that Plano is the place for Liberty to grow. Its welcoming business environment, beautiful neighborhoods, top-rated schools and talented people made it an obvious choice for us."
Joining Mr. Long at the ceremony, Ms. Foley commented: "The impressive quality and depth of talent in Texas gives us access to a strong candidate pool from which we can add thousands of jobs to our local operations and continue to grow our business throughout the state. We know that we will be competing for this talent and our goal is to be the employer of choice in the region. Our new Plano campus, in particular, will offer a wide range of job opportunities at every level, providing exciting new opportunities to area residents."
The new 19-story building's open-floor plan will disburse natural light throughout every level while being 20 percent more energy efficient than the typical modern office. The completed Plano campus will meet LEED Silver requirements and be Liberty Mutual's eighth LEED-certified building. Each aspect of the design, construction and operation will use sustainable or green resources and materials as well as incorporating energy-efficiency and water-conservation methods.
Plano Mayor Harry LaRosiliere welcomed Liberty Mutual to Plano and addressed ceremony attendees that included Economic Development Officer Sally Bane, the insurance commissioner David Mattax and members of the city council.

"Liberty Mutual's expansion provides a significant boost to our economy and I'm delighted to welcome them to Plano," he said. Once again, Plano's high-quality of living – our good schools and skilled workforce – have made us a desirable location for a Fortune 100 company to expand its operations."
To meet the 2017 completion date, KDC Developers has assembled an expert team including OMNIPLAN as architects, Kimley-Horn as civil engineers, Studio Outside as landscape architects, LA Fuess as structural engineers, Telios as mechanical, electrical and plumbing (MEP) engineers, and Balfour Beatty Construction as general contractors.
About Liberty Mutual
Liberty Mutual Insurance first started doing business in Texas in 1924. Today our Texas operations employ more than 2,200 individuals in approximately 35 offices. We are committed to our local talent as well as growing our business and workforce in the state.
Liberty Mutual's mission is to help people preserve and protect what they earn, build, own and cherish. Keeping this promise means we are there when our policyholders throughout the world need us most.
We began our operations in Boston, Massachusetts in 1912. Today Liberty Mutual is a diversified insurer with operations in 30 countries and economies around the world. We are the third largest property and casualty insurer in the U.S. based on 2014 direct premium written as reported by the National Association of Insurance Commissioners.
Liberty Mutual is ranked 78th on the Fortune 100 list of largest corporations in the U.S. based on 2014 revenue. As of December 31, 2014, we have $124.3 billion in consolidated assets, $104.0 billion in consolidated liabilities, and $39.6 billion in annual consolidated revenue.
Liberty Mutual employs more than 50,000 people in approximately 900 offices throughout the world, and we offer a wide range of insurance products and services, including personal automobile, homeowners, accident & health, commercial automobile, general liability, property, surety, workers compensation, group disability, group life, specialty lines, reinsurance, individual life and annuity products.
You can learn more by visiting www.libertymutualinsurance.com.
Contact:
Adrianne Kaufmann
617-574-5983 (W)
617-947-3811 (C)